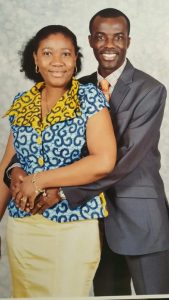 Rev. David Osei-Nimoh is the District Pastor of Oakland District, which comprises of the Oakland Central and Antioch assemblies. A gifted Bible Teacher, Preacher and Author, he was born into a Christian family in the Ashanti Region of Ghana where his parents, Elder Emmanuel Osei Acheampong and Deaconess Agnes Osei Acheampong, raised him up in the fear of the Lord.
As a little kid at the age of 6, David had an enviable precocity for the things of God and wanted to grow to become a great apostle like the late Apostle A.T. Nartey whom he admired a lot. Hence, in one Easter Convention at Agogo in Ghana, he had the opportunity of meeting Apostle A.T. Nartey physically who touched his forehead and said "young man, you will grow to be a great apostle for God." Later, he developed a great affinity for the Bible and began to read several chapters of the Bible daily, prayed and memorized Scriptures to gain deeper insight into the things of God. David was well-known in various areas of the church in Ghana for reciting hundreds of Bible Scriptures during various Conventions. He also won several awards at District, Regional and National levels in Bible Quiz contests, becoming a Bible Quiz champion for both Youth and Witness Ministries for 8 years in a roll in the Mampong Area of the Ashanti Region, until he left the area. He received Holy Ghost baptism at the tender age of 12 in his own room when he was hungry for the touch of God and had waited for 3 days in prayer and fasting.
He grew up and was nurtured through the various ministries of the Church of Pentecost. He has a blend of the PIWC and Local assemblies' culture.
EDUCATION
Rev. David Osei-Nimoh attended the New Testament International School and Asuofua Junior High School in Kumasi, Ghana. He enrolled at the Sekyedumasi Senior High School in 1994. After excelling in the SSSCE of the West African Examinations Council, Pastor David obtained admission to the University of Cape Coast (UCC) in Ghana in 1998. He graduated with Bachelor of Science Honors Degree (BSc HONS) in 2002 in General Agricultural Economics. Consequently, the university appointed him as Teaching Assistant (TA) at the School of Agriculture in November 2002-2003.
In 2004, Rev Osei-Nimoh received a scholarship by the Flemish Government of Belgium and awarded the prestigious VLIR Scholarship to study for Master of Science (MSc) Degree in International Food Technology and Marketing. He was the only Ghanaian to win the scholarship in that year for that program out of 340 applicants. He graduated in 2006 with a Master of Science Magna Cum Laude (Great Distinction). His final academic thesis was published in a number of journals including the International Journal of Food Microbiology.
Until his call into the full-time ministry of the Church of Pentecost, Rev. David Osei-Nimoh was studying with Trident University International in California pursuing a Doctor of Philosophy (PhD) Degree in Health Sciences Administration. He was also enrolled in a Master of Business Administration program with Florida International University (FIU) pursuing a Degree in Corporate Finance in January 2015.
FAMILY AND MARRIAGE
Pastor David Osei-Nimoh is married to his beloved wife Mrs. Albertina Osei-Nimoh, a nurse by profession, whom he met at the University of Cape Coast. David was a final year student whiles Albertina was in her first year. Her husband regards her as the spiritual pillar and prayer warrior behind his ministry. The couple married in August 2007 in Brooklyn, New York, and are blessed with three adorable children—David Jr, Eugenia and Caleb.
The minister is also the author of a powerfully challenging, inspirational and insightful book, "THIS IS OUR TIME", published in 2012.
CHURCH LEADERSHIP
Pastor Osei-Nimoh is a kind of leader who believes in excellence and timeliness. He has a "can do" attitude, and believes God's work must be handled with all might and zeal. He believes that the God of our fathers of old who used men to shake the earth is still the God of today who is able to do even greater things. His book "This Is Our Time" captures his heart's passion.
He was first appointed as local Youth leader at the young age of 14. He has since held numerous leadership roles in various places in the Church of Pentecost in Ghana, Belgium and USA. He has held Local and District leadership roles for both Youth and PENSA and Witness Ministries. At the University of Cape Coast, he held a number of positions in PENSA UCC, including Director for Bible Studies and Literature, Editor-in-Chief for PENSA Moonlight magazine, ITI/PENSA Conference Publicity Chairman (2002) and Secretary for Electoral Commission and Constitution Committees.
Pastor Osei-Nimoh was instrumental in establishing a strong and vibrant PIWC in Gent, Belgium and ministered in a number of churches in the country. The grace of God upon his life and the gifts of the Spirit that operate in his ministry have taken him to several churches and conferences to preach, teach and minister the uncompromising Word of God. Until his call into the full-time ministry, he was an Elder of the Church of Pentecost in the Brooklyn District and held several leadership roles at local, district and regional levels. God has used him as an instrument to impact people from all walks of life and has transformed all the churches he has led. He has mentored both young and old and walks with the touch of God upon his life. His philosophy is: "it's either you are a flame for God that burns everything or an empty and powerless wood for the enemy that is burnt by anything." To God be the glory!